"The idea of waiting for something" said Andy Warhol, "makes it more exciting." If that is the case, then we are about as excited at The Crowded Kitchen as we can possibly get! We have anticipated this moment for so long; working with contractors, buying equipment, finding suppliers, waiting to be inspected, and ultimately, getting the go-ahead by all the various state and local health offices to start our operations.
"The idea of waiting for something" said Andy Warhol, "makes it more exciting." 
At the start of a every new business process, you expect things to go in certain ways, but there are always inevitable changes that occur, as the model evolves according to all the regulations and logistics you encounter. We had to re-jigger certain elements of our plan for distribution. We had to test and re-test all our bone broths and stocks, fine tuning seasoning and cooking times with each subsequent trial. We had to come up with production schedules. We had to find the perfect packaging design. We did all that and now we have finally been granted approval by all the various powers-that-be to become a legitimate production kitchen, so let's say it together: We are open for business!
All that anticipation, anxiety, hope, hard work, rushes of adrenaline, and now, sighs of relief, have brought us to here, the actual jumping off point.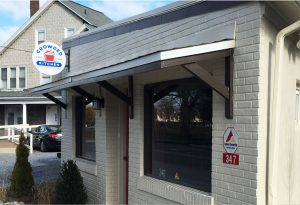 There is a real satisfaction for having gotten to this point, but now the real work begins, and we are absolutely looking forward to bringing the community the best broths and stocks imaginable. We can't wait for you to taste them, and as Warhol would say, that makes it exciting!