When embarking on a construction project, it is essential that you have the patience of saint, the flexibility of a mental gymnast and the nimbleness of a dancing juggler. Things happen, and then other things happen. You roll with the flow, you absorb the punches and like a phoenix, you rise from the ashes, generally poorer than you anticipated, but richer for having gone through the process. Once the finished space appears before you, glistening and fresh, you draw in that first deep breath and say, "Wow, it was all worth it! Now let's fill this space up with stuff".
And what fun stuff The Crowded Kitchen has filled itself with. Think safety, strength and speed!
"…let's fill this space up with stuff" 
Let's start with the biggest and brightest (and loudest) of all our new acquisitions, our state-of-the-art hood vent. This vent enables us to cook multiple stocks and broths in mega quantities all very safely, utilizing the newest technologies. The ventilation system starts and shuts off automatically, capable of detecting the slightest increases in temperature, steam, flame or smoke. We feel quite confident that the investment we made in this hood insures we have a viable safety net for our employees, our property, and our production. We all breathe easier having this overhead!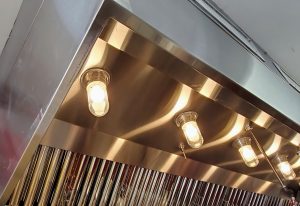 Despite the hood being the biggest (and most expensive) piece of equipment we installed, directly beneath it sit the real lifeblood of the operation, our jacketed steam kettles – at the moment, two behemoth 40 gallon drums. But because size matters, we're already thinking of upgrading, exchanging one of the 40s for a 60-gallon kettle. There are differences and advantages to using a kettle rather than a stock pot. The steam kettles are secured to the ground, so no heavy lifting, and have a rounded bottom with a release faucet for easy emptying. Steam circulates within the jacketed kettle, giving it an advantage over the traditional stock pot, with quick heat up times, uniform heat, and easy temperature control. And importantly, large yields are more manageable.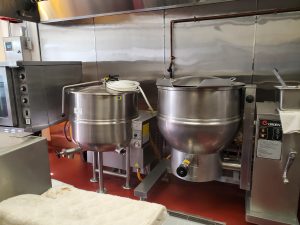 We also employ a quick chill technology that we feel gives our product an edge over most other bone broth and stock businesses, preserving the original flavor, color and viscosity when held for using at a later date. This process, which cools hot stock from a temperature of over 180° to less than 40° in six to seven minutes, allows us to distribute refrigerated and frozen product that when opened, will have maintained its freshness and vibrancy. After removing the hot broth from the stove, it is decanted into torpedo kegs or into a CUSTOM KEG. Those kegs are spun at a rapid rate, with water from an ice bath receptacle flowing over them. This vacuum seals the product within the container and extends its shelf life considerably. And besides chilling so rapidly, it is just really cool!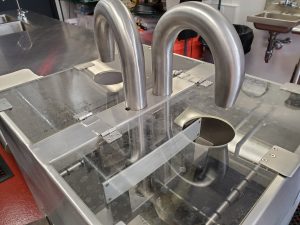 To be able to use our quick chill machine, we have also installed a XXXX capacity ice machine, which will keep us in ice cubes for many years to come.
In time, and with volume sales, we hope to be able to get regular use from our bag filler and quick-seal apparatus, which makes filling different size bags with fresh broths and stocks more efficient and economical.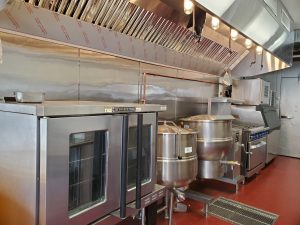 Our pretty kitchen! We're going to love cooking here!
You could say that after finishing with the literal new nuts and bolts of construction, we added the figurative nuts and bolts of the operation with all this good stuff. These are just a few of the truly nifty (and essential) components of the newly renovated Crowded Kitchen. Come by and peek in the window to see it all in action!