The Crowded Kitchen 2019 B.C. (before construction):
When Drew purchased the property and community kitchen business at 347 N. Plum St. in Lancaster county in 2018, he was not beginning his dream, he was just starting to fulfill it. A few years earlier he had sold his web design business, leaving his home in Florida and moving to Brooklyn, NY to follow a passion, an endeavor that for him could be more soul-sustaining than web design – he joined the culinary world. Using the proceeds from the sale of his business, he enrolled in the International Culinary Center and then went on to work as a cook at Tom Colicchio's Craft restaurant. This was definitely fulfilling, but no matter how satisfying cooking for others is for Drew, he is also at heart an entrepreneur. Through experimentation, with his wife and daughters as willing diners, he developed a number of broth, stock and soup recipes that he felt would appeal to a broad market. His purchase of the N. Plum St. location was the catalyzing moment for our nascent broth company, which he named The Crowded Kitchen.
Drew recognized the connection the building had with the community and recognized the symbiotic impact the users of the kitchen had with the local market. 
For me, the image of a crowded kitchen conjures up memories of friends and family gathering for a simple potluck or an annual holiday gathering. The olfactory memories jostled by the wonderous bouquet of a gently simmering stock tug at a strong emotional tie that makes us feel like we are home, that we are about to participate communally with all our favorite people. (This may also explain an earworm I get on occasion from the old Jona Lewie song, "You Will Always Find Me in the Kitchen at Parties".) One of Drew's desires when purchasing both the building and the business it housed, was to continue to operate the East Side Community Kitchen. Drew recognized the connection the building had with the community and recognized the symbiotic impact the users of the kitchen had with the local market.
Some History: Since the East Side Community Kitchen of Lancaster PA opened, the operative word has always been community. The founding owner, Leah Margerum, purchased the building that housed Plum Street Gourmet from Anne Eshelman in February of 2009, when Eshelman moved to a bigger storefront. Their relationship had started some years before, after Margerum, having exhausted all other leads and avenues to find a space to produce her organic baby food, finally found a willing kitchen owner in Eshelman. At last, she was provided a small corner of a commercial kitchen where she could get to work. That generosity planted the seed for Margerum's dream to set up a commercial kitchen to provide micro-businesses a space to start up their own dreams, just as she had been afforded that same opportunity by Eshelman. In the years since, many a community chef, caterer, food truck owner, market stand operator, and purveyor of nutraceuticals have all utilized this space.
The operative word has always been community.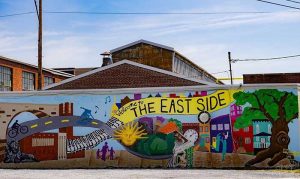 This sense of community shone through once again in 2013, when 88 donors crowd-funded over $5k to paint the mural on the side of community kitchen building. The painting itself was a collaboration of artists, designers and community helpers and stands as a welcoming beacon to the East Side of the city.
Crowded Kitchen A.D. (after Drew): Another chapter in the community kitchen is beginning. When Drew transplanted from Brooklyn to Lancaster, a city dubbed a "mini-Brooklyn" by a 2016 New York Post article, the operative word for him remains community. Drew has re-branded the kitchen as the Crowded Kitchen Community Cookhouse and in addition to maintaining the rear kitchen space for small businesses and start-ups, he has rehabilitated the front kitchen space to use as the home base for his newest venture and adventure, Crowded Kitchen. Starting from scratch, we basically gutted the front end and built the kitchen out to fit our needs. As with any remodel or construction project, ups and downs occur, stops and starts happen, roadblocks are encountered along with the occasional smooth sailing, and invariably changes of plans crop up.